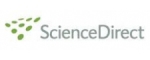 ScienceDirect
Accesul se face la următoarea adresă:
www.sciencedirect.com
Prin intermediul platformei Elsevier  ScienceDirect  utilizatorii bibliotecii beneficiază de acces online, text integral, la carte științifică și academică (ebooks).
Platforma ScienceDirect este o foarte importantă resursă informațională, cuprinzând publicații ale grupului editorial Elsevier (edituri: Elsevier, Churchill Livingstone, Saunders, Mosby, Cell Press, Pergamon, Butterworth-Heinemann, Academic Press, The Lancet, JAI Press, North Holland, Masson).
Biblioteca ASE beneficiază de acces la colecția de carte electronică (ebooks) Economics, Econometrics and Finance.
Domenii: economie, econometrie, finanțe, contabilitate, managementul riscului.